This is the English translation of the original post in Bulgarian.


Българска версия.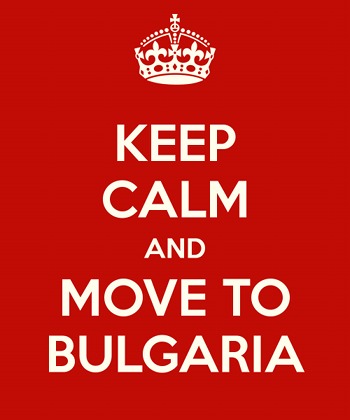 Bad weather, no jobs and low wages – that's how the British government will "advertise" its country to Bulgarians and Romanians. The goal is to prevent a wave of immigrants, which is supposed to crash in the UK shores post 2014. This is when the employment restrictions expire, so several think tanks estimate between 250 and 750 thousands will pack their suitcases in search of a better life. These numbers are of course vastly exaggerated and there would be only slight increase of immigrants if any at all. The fear of such a wave, however, is so great, that the UK government takes extreme measures. In the absurdity of it all, it will be most amusing to watch people as proud as the British to show off the drawbacks of their own country. This would be something to look forward to.

They do make a valid point however – Great Britain is indeed a grim, dangerous place with glaring economic difficulties. Therefore the only responsible thing we Bulgarians can do as Europeans is to extend a helping hand and invite all Brits who've had enough. There are already about 3000 who chose to move to Bulgaria. We even made a map in cooperation with the British embassy. On their page one can find helpful tips on how to live here. Bloomberg sited Bulgaria as a prime destination to move to with benefits like a flat income tax, low corporate taxes, low country debt and a currency coupled with the Euro to name a few. British retirees would find Bulgarian villages splendid – it's cheaper, cleaner, less stressful, the food is tastier, the weather is great and they can get their retirement check anywhere. We could even make brochures and videos of Brits living here on why they prefer BG to UK. There're already a couple of blogs on the subject. We can also include the wonderful "Why people learn Bulgarian" video. The possibilities are endless.
Apart from a parody of the immigrant paranoia we see in the UK, such a counter campaign could have a positive effect to Bulgarian tourism. And who knows – maybe even more families would choose Bulgaria.
* British? You'll like it here – a reference to the article "Immigration: Romanian or Bulgarian? You won't like it here" in The Guardian.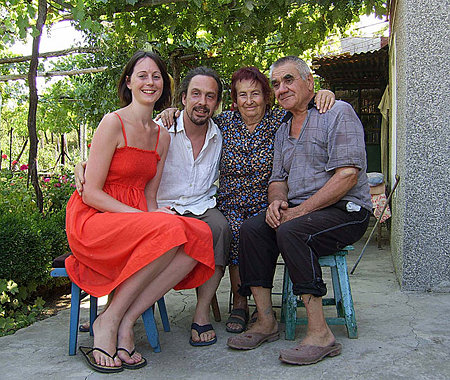 Gema and Casper with their neighbors in Bulgaria @ aBulgarianLife